Meet Our Faculty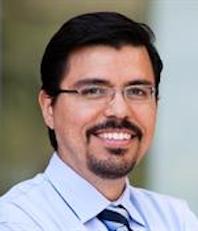 Luis Castellanos, MD, MPH
Director of Diversity, UC San Diego Internal Medicine Residency
Associate Clinical Professor, Division of Cardiology
Dr. Castellanos graduated from UC Davis summa cum laude and Phi Beta Kappa, with a Bachelor of Science in biochemistry and earned his medical degree from Harvard Medical School. He first joined UCSD as an internal medicine resident in 2003 and then completed a prestigious Fellowship in Minority Health Policy at Harvard University/Commonwealth Fund Program, obtaining a Master's in Public Health with an emphasis in Health Policy and Management at the Harvard School of Public Health. He subsequently completed a fellowship in cardiovascular medicine at UC Davis, where he was selected as the Chief Research Fellow for his involvement in clinical research that addressed vulnerable populations. He joined the faculty at UCSD in 2010. As part of his clinical service, Dr. Castellanos travels to the Imperial Valley to provide cardiac care to underserved populations from El Centro, Brawley, and neighboring communities.
Dr. Castellanos' research focuses on health outcomes and inequities involving minority groups. He has co-authored peer-reviewed articles in the American Journal of Cardiology and the Journal of Cardiac Failure. He was awarded a research grant from the Clinical and Translation Research Institute to study the effectiveness of a home-based cardiac rehabilitation program in patients with coronary heart disease who live in rural communities. He has been invited to present his research at national conferences such as the American Heart Association and National Hispanic Medical Association annual meetings, where he has been a strong advocate for improving cardiovascular heath of vulnerable populations.
Dr. Castellanos has been recognized by the UCSD Clinical Advancement and Recognition of Excellence in Service and received the National Center for Leadership in Academic Medicine Award in 2013. Most recently, Dr. Castellanos was selected as a UCSD Leaders for Equity, Advancement, and Diversity fellow.
---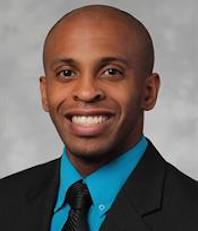 Dirk "DJ" Gaines, MD
Associate Director of Diversity, UC San Diego Internal Medicine Residency
Academic Hospitalist, VA San Diego Healthcare System
I was born in Germany and raised in Spokane, WA. I grew up in a multicultural household with my father who is from Washington DC and my mother who is from Panama. I completed my undergraduate and medical school training at the University of Washington in Seattle (Go Huskies!). Early on during my internal medicine rotation, I knew that I wanted to be an Academic Hospitalist with a focus on DEI initiatives. I completed my Internal Medicine residency at UCSD and stayed on for an additional year as one of the Chief Medical Residents of Quality and Safety. I am now an Academic Hospitalist at the VA San Diego and the Associate Director of Diversity in Medicine and Faculty Outreach for the residency program.
My primary interests include the recruitment and retention of individuals who are underrepresented in medicine (URiM), educating students, residents, and staff on microaggressions, and the transmission of bias in the electronic medical record. Additionally, I am on the senior producers for a podcast called The DEI Shift, where we discuss various topics surrounding diversity, equity, and inclusion in medicine. I am grateful for the opportunities this program has given me and I'm excited for what the future holds.
---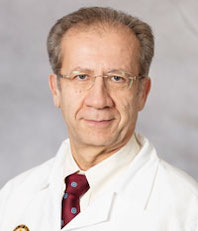 Francis Gabbai, MD
Vice Chair, Department of Medicine
Professor, Division of Nephrology
I was raised in Mexico City, where I went to Medical School and completed my residency in Internal Medicine and a fellowship in Nephrology. My interests in Nephrology, specifically hypertension and various models of kidney injury, came about during the completion of the mandatory community service of my last year in medical school. At the end of my Nephrology fellowship, my interests in research lead me to complete a Master's Degree and opened for me the opportunity to complete a year at UCSD as a Fogarty International Fellow. After going back and working for a period of two year as a junior faculty in Mexico City, I had the opportunity to return to UCSD and have remained here for the last 30+ years. As a faculty member moving up through the ranks, I have had the opportunity to continue to practice Medicine and Nephrology while dedicating a large amount of the time to basic and clinical research. Having trained in Mexico and fluent in Spanish, I very much enjoy understanding and treating patients with a Hispanic background as well as other patients with various diseases of the kidney.
---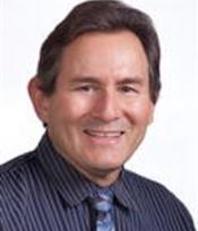 Tony Lopez, MD
Professor of Medicine
Division of General Internal Medicine
Both my paternal and maternal grandparents immigrated to the U.S. as young children with their families to flee from the Mexican Revolution and ultimately settled in the barrios of northern San Diego County. Two generations later, I was born at Camp Pendleton, while my dad, a master sergeant in the Army, was fighting for our country in the Korean War, during which he survived a near fatal gunshot wound.
I attended college at the UC Irvine, with a B.A. in chemistry and B.S. in biology. I completed my medical school training at UCLA and I did my internship and residency training at Harbor-UCLA Medical Center. Following this, I was selected for the Kennamer Fellowship Program in General Internal Medicine at the UCLA School of Medicine and became Harbor's first general internal medicine fellow. Ultimately, I double boarded in Internal Medicine and Family Practice with special qualifications in Geriatrics and became Assistant Head of the Division of General Internal Medicine at Scripps Clinic before being recruited to UCSD as a clinician-educator. I am currently a Clinical Professor of Medicine in the UCSD Division of General Internal Medicine where I have a very busy and diverse outpatient general internal medicine practice. I am also actively engaged in the teaching and mentoring of medical students, internal medicine residents, and new faculty. My current interests include all aspects of medical education including problem based learning and clinical reasoning.
I am so thankful for the many opportunities that UCSD has afforded me including working with the homeless and Latino populations in community-based clinics such as Logan Heights and St. Vincent de Paul and many years of service on medical school admissions including the interviewing of applicants from disadvantaged backgrounds. When siting alone in one of the MTF classrooms waiting for my medical students to arrive, I often reflect back to my roots in northern Mexico and the long journey that brought me here. I feel so overwhelmingly grateful, proud, and privileged for the core attributes of perseverance, humbleness, humility, mutual respect, hard work ethic, teamwork, and of course Familia that my parents and cultural heritage have deeply engrained within me.
---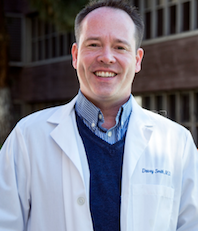 Davey Smith, MD, MAS
Professor of Medicine
Division of Infectious Diseases and Global Public Health
Davey Smith, MD, MAS completed his internship, residency and chief residency in Internal Medicine at UC San Diego and stayed to complete his fellowship in Infectious Diseases. He joined the UC San Diego faculty in 2003 and was promoted to full professor in 2012. In 2010, Dr. Smith was named HIV Researcher of the Year by the HIV Medical Association, and he became the co-director and principal investigator of the San Diego Center for AIDS Research in 2016. In 2017, he was promoted to Head of the Division of Infectious Diseases and Global Public Health at UC San Diego. In 2020, he was appointed the Florence Seeley Riford Chair in AIDS Research at UC San Diego.
Dr. Smith's primary research involves translational virology and he has published over 300 scientific publications in these areas. Most recently, Dr. Smith is actively engaged in the international effort to find safe and effective treatments for COVID-19, and he is the international protocol co-chair for the ACTIV-2 treatment study, which is a part of the US government's response to COVID-19.
As an openly gay man with a mobility disability, Dr. Smith is also heavily engaged in Diversity, Equity and Inclusion efforts at UCSD. In 2001, he started a Gay Men and Transgender Night Clinic at Family Health Centers of San Diego, where medical students, residents and fellows have regularly trained since its inception. He also is a member of the UCSD Hispanic Center of Excellence, Chancellor's Advisory Committee on Gender Identity and Sexual Orientation Issues, and Health Science Diversity Committee. He is also a co-PI of the NIH-funded RAPID Program for junior faculty from under-represented backgrounds in medicine to assist in academic career development.
---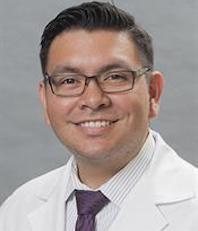 Joseph Avalos, MD
Assistant Clinical Professor
Division of Hospital Medicine
I was born and raised in New Mexico, in a small town called Las Cruces. I completed undergrad at New Mexico State University with a BS in Biology and a BA in Philosophy. I went on to attend medical school in Albuquerque at the University of New Mexico School of Medicine. My interest in Allergy/Immunology and my desire to expand my cultural experience took me to New Orleans, LA, where I completed my internal medicine residency at Tulane University. There I fell in love with education and academics as well as hospital medicine. After my training, I remained in New Orleans at a community residency program as an academic hospitalist. I seized the opportunity to come to UCSD in 2016 with my wife, who is also a physician and a native San Diegan. I plan to continue working as an academic hospitalist and advancing toward professorship excelling in patient care and medical education.
Commitment to diversity is one of the aspects of UCSD that I admire most. I am proud to be part of the Hispanic Center of Excellence (HCOE) Junior Faculty Mentorship program, aimed to identify and promote underrepresented medical staff. Under this program, I have been recognized and supported as a minority in medicine. Through HCOE I will also mentor and support the development of our diverse junior faculty as well as medical students and undergraduate students with career aspirations in medicine. Promoting diversity also includes identifying patient socioeconomic, educational, and language limitations to healthcare literacy and effectively adapting communication to ensure understanding of their complex disease state and treatment options. I am honored to be acknowledged by UCSD.
---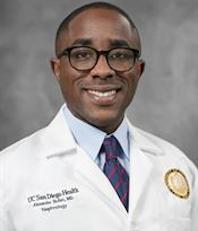 Alexander Bullen, MD
Assistant Clinical Professor
Division of Nephrology
I was born and raised and completed my medical school training in Panama. During my rotation in public health, I became deeply fascinated with the ability of research to promote positive health changes. During my internal medicine residency training in the United States, I became interested in the role that hemodynamics played in kidney function. To further my clinical and research training in nephrology, I joined the fellowship at UC San Diego under the mentorship of Joachim Ix. I was destined to train in clinical research but opted to spend a year in an animal physiology laboratory to obtain skills in performing surgeries of animal models of acute kidney injury. In the clinical realm, I have completed and published studies in hemodialysis patients and I'm currently studying the role abnormal tubular function plays in future acute kidney injury. I also enrolled in a Masters in Clinical Research to learn how to properly design and conduct clinical research studies and analyze clinical data using appropriate statistical methods. I was awarded a Merit Scholarship due to my academic performance.
---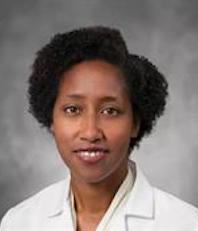 Angelique Richardson, MD, PhD
Assistant Professor of Medicine
Division of Hematology-Oncology
Angelique Richardson, MD, PhD is a physician scientist and breast medical oncologist in the department of Medicine at the UC San Diego. She specializes in the use of systemic therapies for the treatment of patients diagnosed with breast cancer. A graduate of Loma Linda School of Medicine, where she received a MD/PhD with the doctoral studies focus being cancer signaling/biology and breast cancer disparities. She completed her Hematology/Oncology fellowship at Penn State in Hershey, PA. After fellowship, she was selected for a highly coveted clinical breast and translational research post fellowship year under the mentorship of Dr. Marc Lippman at the University of Miami. Since joining the faculty at UC San Diego, she has developed a record for mentorship, community outreach, and research. She has closely mentored many trainees of all levels from undergraduates to hematology/oncology fellows. She is very involved in community outreach and engagement activities and currently serves on the UC San Diego Community Outreach and Engagement steering committee. She works alongside several community-based breast cancer patient advocacy groups, namely Susan G. Komen Foundation, Tiger Lilly, and Many Shades of Pink. Dr. Richardson is also very engaged in clinical breast cancer research. Her research interests include addressing breast cancer health disparities in black women, serving as principal investigator and enrolling patients on therapeutic cancer trials, and elucidating better therapies for women diagnosed with breast cancer.
---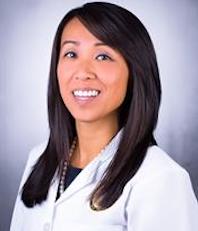 Jia Shen, MD, MPH
Assistant Clinical Professor
Division of Cardiology
Dr. Shen is Chinese Canadian and completed her residency and fellowship in Cardiovascular Diseases at Emory University. She has a Master's in Public Health from Harvard University. She joined the UC San Diego faculty in 2017. Dr. Shen has a robust clinical practice with a focus in preventive cardiology, cardiac rehabilitation, and lifestyle medicine. She is heavily involved in the training of residents and fellows and frequently lectures at the medical school and in the community. She is a part of UC San Diego Health's Master Clinician Program, which aims to transform the practice of medicine by delivering individualized mentorship to medical students with an emphasis on compassionate care. She is a clinical director at the International Health Collective, a non-profit student run organization that provides medical care and services to marginalized communities in the San Diego-Tijuana-Baja Sur region. Dr. Shen and her wife, Katherine, live in Point Loma with their two goldendoodles.